Artigo de periódico
Los mecanismos y normas de protección en las relaciones laborales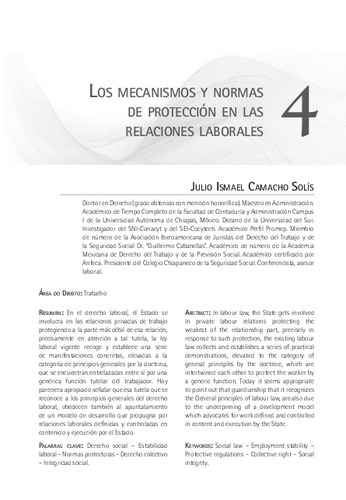 ---
Statistics for this item
Artigo de periódico
Los mecanismos y normas de protección en las relaciones laborales
[spa] En el derecho laboral, el Estado se involucra en las relaciones privadas de trabajo protegiendo a la parte más débil de esa relación, precisamente en atención a tal tutela, la ley laboral vigente recoge y establece una serie de manifestaciones concretas, elevadas a la categoría de principios generales por la doctrina, que se encuentran entrelazadas entre sí por una genérica función tutelar del trabajador. Hoy pareciera apropiado señalar que esa tutela que se reconoce a los principios generales del derecho laboral, obedecen también al apuntalamiento de un modelo de desarrollo que propugna por relaciones laborales definidas y controladas en contenido y ejecución por el Estado.
[eng] In labour law, the State gets involved in private labour relations protecting the weakest of the relationship part, precisely in response to such protection, the existing labour law collects and establishes a series of practical demonstrations, elevated to the category of general principles by the doctrine, which are intertwined each other to protect the worker by a generic function. Today it seems appropriate to point out that guardianship that it recognizes the General principles of labour law, are also due to the underpinning of a development model which advocates for work defined and controlled in content and execution by the State.
Table of contents
El principio protector del derecho del trabajo -- El principio de la irrenunciabilidad -- El principio de contiuidad de la relación -- Principio de la condición más beneficiosa -- Principio de igualdad de trato -- El principio de beneficio en caso de duda -- Principio de la primacía de la realidad -- Principio de la buena fe -- Principio de la razonabilidad -- Principio de gratuidad -- Los efectos del modelo económico actual y la necesaria revalorización de los principios del derecho laboral y sus normas protectoras -- La protección en contra de la discriminación laboral -- La protección social internacional en contra de la discriminación en el derecho del trabajo -- Trascendencia del tema de la igualdad de género -- Autonomía sindical -- Los principios del derecho procesal del trabajo en la legislación mexicana -- Derecho a la seguridad social
Citation
CAMACHO SOLÍS, Julio Ismael. Los mecanismos y normas de protección en las relaciones laborales. Revista de direito do trabalho, São Paulo, v. 37, n. 143, p. 65-92, jul./set. 2011.
---
Statistics for this item
Related items
Showing items related by title, author, creator and subject.