Artigo de periódico
El afán tuitivo en la determinación del forum y el IUS en las relaciones laborales internacionales en la Unión Europea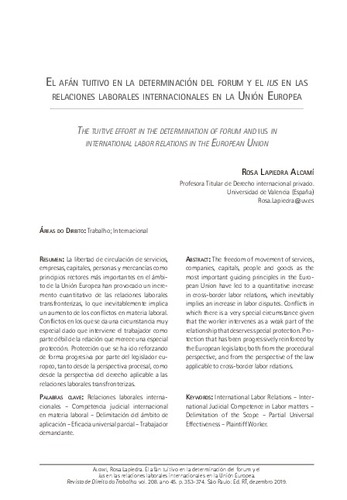 ---
Statistics for this item
Artigo de periódico
El afán tuitivo en la determinación del forum y el IUS en las relaciones laborales internacionales en la Unión Europea
[spa] La libertad de circulación de servicios, empresas, capitales, personas y mercancías como principios rectores más importantes en el ámbito de la Unión Europea han provocado un incremento cuantitativo de las relaciones laborales transfronterizas, lo que inevitablemente implica un aumento de los conflictos en materia laboral. Conflictos en los que se da una circunstancia muy especial dado que interviene el trabajador como parte débil de la relación que merece una especial protección. Protección que se ha ido reforzando de forma progresiva por parte del legislador europeo, tanto desde la perspectiva procesal, como desde la perspectiva del derecho aplicable a las relaciones laborales transfronterizas.
[eng] The freedom of movement of services, companies, capitals, people and goods as the most important guiding principles in the European Union have led to a quantitative increase in cross-border labor relations, which inevitably implies an increase in labor disputes. Conflicts in which there is a very special circumstance given that the worker intervenes as a weak part of the relationship that deserves special protection. Protection that has been progressively reinforced by the European legislator, both from the procedural perspective, and from the perspective of the law applicable to cross-border labor relations.
Table of contents
El sistema competêncial en materia laboral: el reglamento 1215/2012: La sumisión expresa o tácita: requisitos de validez del acuerdo de sumisión. Carencias tuitivas en los litigios relativos a explotación de sucursales, agencias o establecimientos del artículo 7.5. Demanda interpuesta contra un empresario en el marco de una pluralidad de demandados: el artículo 8.1. Los foros especiales de protección en materia laboral. Los foros de ataque del trabajador -- Régimen jurídico aplicable en materia laboral: el reglamento 593/2008 -- La determinación de la ley aplicable al contrato individual de trabajo: La autonomía de la voluntad conflictual. Límites impuestos a la autonomía de la voluntad -- La ley aplicable a falta de elección
Citation
LAPIEDRA ALCAMÍ, Rosa. El afán tuitivo en la determinación del forum y el IUS en las relaciones laborales internacionales en la Unión Europea = The tuitive effort in the determination of forum and IUS in international labor relations in the European Union. Revista de direito do trabalho, São Paulo, v. 45, n. 208, p. 353-374, dez. 2019.
---
Statistics for this item
Related items
Showing items related by title, author, creator and subject.