Artigo de periódico
La necesidad de una nueva internacionalización, o supranacionalidad, para asegurar la efectividad de la gobernanza de las relaciones de trabajo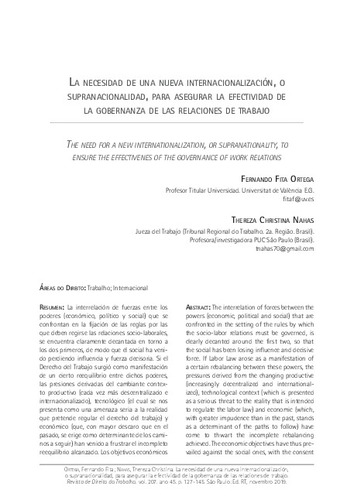 ---
Statistics for this item
Artigo de periódico
La necesidad de una nueva internacionalización, o supranacionalidad, para asegurar la efectividad de la gobernanza de las relaciones de trabajo
[spa] La interrelación de fuerzas entre los poderes (económico, político y social) que se confrontan en la fijación de las reglas por las que deben regirse las relaciones socio-laborales, se encuentra claramente decantada en torno a los dos primeros, de modo que el social ha venido perdiendo influencia y fuerza decisoria. Si el Derecho del Trabajo surgió como manifestación de un cierto reequilíbrio entre dichos poderes, las presiones derivadas del cambiante contexto productivo (cada vez más descentralizado e internacionalizado), tecnológico (el cual se nos presenta como una amenaza seria a la realidad que pretende regular el derecho del trabajo) y económico (que, con mayor descaro que en el pasado, se erige como determinante de los caminos a seguir) han venido a frustrar el incompleto reequilíbrio alcanzado. Los objetivos económicos han prevalecido así frente a los sociales, con la anuencia de un poder político en parte cautivo de las fuerzas económicas, en parte complaciente con las mismas, al coincidir en sus intereses y objetivos. La degradación de las condiciones socio-laborales que este fenómeno ha acarreado ha llevado al replanteamiento de la cuestión social bajo el nombre de la gobernanza económica, con la que se persigue alcanzar el progreso económico y social de los Estados y sus ciudadanos. Dado que la mejora de las condiciones de vida y de trabajo no se han derivado -como se vino postulando- de forma natural del progreso económico, resulta necesario ensayar instrumentos de gobernanza. En este sentido, y dada la internacionalización de la economía y de la producción, la propuesta que se formula en este escrito -compatible con otros mecanismos- es la de la creación de un derecho del trabajo internacional acompañado de tribunales con jurisdicción universal en el ámbito laboral. La propuesta es ambiciosa, pero no descabellada.
[eng] The interrelation of forces between the powers (economic, political and social) that are confronted in the setting of the rules by which the socio-labor relations must be governed, is clearly decanted around the first two, so that the social has been losing influence and decisive force. If Labor Law arose as a manifestation of a certain rebalancing between these powers, the pressures derived from the changing productive (increasingly decentralized and internationalized), technological context (which is presented as a serious threat to the reality that is intended to regulate the labor law) and economic (which, with greater impudence than in the past, stands as a determinant of the paths to follow) have come to thwart the incomplete rebalancing achieved. The economic objectives have thus prevailed against the social ones, with the consent of a political power partly captive of the economic forces, partly complacent with them, by coinciding with their interests and objectives. The degradation of the socio-labor conditions that this phenomenon has led to the rethinking of the social issue under the name of economic governance, which seeks to achieve economic and social progress of the States and their citizens. Since the improvement of living and working conditions has not been derived - as it was postulated – in a natural way from economic progress, it is necessary to test governance instruments. In this sense, and given the internationalization of the economy and production, the proposal formulated in this paper - compatible with other mechanisms - is the creation of an international labor law accompanied by courts with universal jurisdiction in the field labor. The proposal is ambitious, but not far-fetched.
Table of contents
La correlación de fuerzas entre el poder político, económico y social en el origen del derecho del trabajo -- Las mutaciones del derecho del trabajo y los factores de cambio -- Las respuestas del ordenamiento a los factores de cambio -- La necesidad de un suelo normativo transnacional y de una jurisdición universal
Citation
FITA ORTEGA, Fernando; NAHAS, Thereza Christina. La necesidad de una nueva internacionalización, o supranacionalidad, para asegurar la efectividad de la gobernanza de las relaciones de trabajo. Revista do Tribunal Regional do Trabalho da 24. Região, Campo Grande, n. 4, p. 122-141, 2019.
FITA ORTEGA, Fernando; NAHAS, Thereza Christina. La necesidad de una nueva internacionalización, o supranacionalidad, para asegurar la efectividad de la gobernanza de las relaciones de trabajo = The need for a new internationalization, or supranationality, to ensure the effectivenes of the governance of work relations. Revista de direito do trabalho, São Paulo, v. 45, n. 207, p. 127-145, nov. 2019.
---
Statistics for this item
Related items
Showing items related by title, author, creator and subject.