Artigo de periódico
La intangibilidad y la teoría de la imprevisión en el derecho del trabajo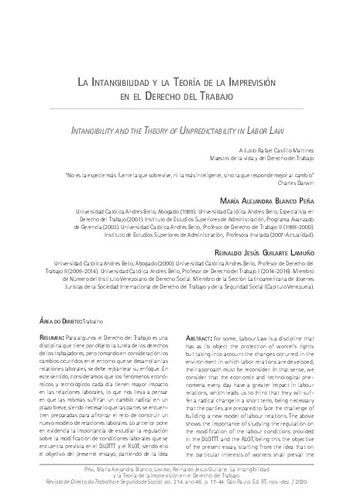 ---
Statistics for this item
Artigo de periódico
La intangibilidad y la teoría de la imprevisión en el derecho del trabajo
[spa] Para algunos el Derecho del Trabajo es una disciplina que tiene por objeto la tutela de los derechos de los trabajadores, pero tomando en consideración los cambios ocurridos en el entorno que se desarrollan las relaciones laborales, se debe replantear su enfoque. En este sentido, consideramos que los fenómenos económicos y tecnológicos cada día tienen mayor impacto en las relaciones laborales, lo que nos lleva a pensar en que las mismas sufrirán un cambio radical en un plazo breve, siendo necesario que las partes se encuentren preparadas para afrontar el reto de construir un nuevo modelo de relaciones laborales. Lo anterior pone en evidencia la importancia de estudiar la regulación sobre la modificación de condiciones laborales que se encuentra prevista en el DLOTTT y el RLOT, siendo ello el objetivo del presente ensayo, partiendo de la idea que sobre los intereses particulares de los trabajadores deben prevalecer los intereses de la sociedad, como forma de garantizar la paz social.
[eng] For some, Labour Law is a discipline that has as its object the protection of worker's rights but taking into account the changes occurred in the environment in which labor relations are developed, their approach must be reconsider. In that sense, we consider that the economic and technological phenomena every day have a greater impact in labour relations, which leads us to think that they will suffer a radical change in a short term, being necessary that the parties are prepared to face the challenge of building a new model of labour relations. The above shows the importance of studying the regulation on the modification of the labour conditions provided in the DLOTTT and the RLOT, being this the objective of the present essay, starting from the idea that on the particular interests of workers shall prevail the interests of the society, as a way to guarantee the social peace.
Table of contents
La intangibilidad de los derechos de los trabajadores -- La teoría de la imprevisión -- La modificación in peius de las condiciones laborales -- Cumplimiento por equivalente de la convención colectiva
Citation
BLANCO PEÑA, María Alejandra; GUILARTE LAMUÑO, Reinaldo Jesús. La intangibilidad y la teoría de la imprevisión en el derecho del trabajo = Intangibility and the theory of unpredictability in labor law. Revista de direito do trabalho e seguridade social, São Paulo, v. 46, n. 214, p. 17-44, nov./dez. 2020.
---
Statistics for this item
Related items
Showing items related by title, author, creator and subject.