Artigo de periódico
El despido colectivo en España: una visión tras las últimas reformas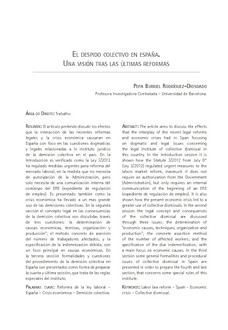 ---
Statistics for this item
Artigo de periódico
El despido colectivo en España: una visión tras las últimas reformas
[spa] El artículo pretende discutir los efectos que la interacción de las recientes reformas legales y la crisis económica causaran en España con foco en las cuestiones dogmaticas y legales relacionadas a lo instituto jurídico de la demisión colectiva en el país. En la Introducción es verificado como la Ley 3/2012 ha regulado medidas urgentes para reforma del mercado laboral, en la medida que no necesita de autorización de la Administración, pero solo necesita de una comunicación interna del comienzo del ERE (expediente de regulación de empleo). Es presentado también como la crisis económica ha llevado a un mas grande uso de las demisiones colectivas. En la segunda sección el concepto legal en las consecuencias de la demisión colectiva son discutidas través de tres cuestiones: la determinación de causas económicas, técnicas, organización y producción"; el método concreto de aserción del número de trabajadores afectados; y la especificación de la indemnización debida; con un foco principal en causas económicas. En la tercera sección formalidades y cuestiones del procedimiento de la demisión colectiva en España son presentados como forma de preparar la cuarta y última sección, que trata de las reglas especiales del instituto.
[eng] The article aims to discuss the effects that the interplay of the recent legal reforms and economic crises had in Span focusing on dogmatic and legal issues concerning the legal institute of collective dismissal in this country. In the Introduction session it is shown how the Statute 3/2012 from July 6th (Ley 3/2012) regulated urgent measures to the labors market reform, inasmuch it does not require an authorization from the Government (Administratión), but only requires an internal communication of the beginning of an ERE (expediente de regulación de empleo). It is also shown how the present economic crisis led to a greater use of collective dismissals. In the second session the legal concept and consequences of the collective dismissal are discussed through three issues: the determination of "economic causes, techniques, organization and production"; the concrete assertion method of the number of affected workers; and the specification of the due indemnification; with a main focus on economic causes. In the third section some general formalities and procedural issues of collective dismissal in Spain are presented in order to prepare the fourth and last section, that concerns some special rules of this institute.
Table of contents
Concepto y consecuencias del despido colectivo -- Formalidades del despido colectivo: La antigua autorización para la extinción de los contratos de trabajo. Apertura del periodo de consultas. Documentación necesaria. Actuación de la autoridad laboral. Obligaciones del empresario -- Reglas especiales: quiebra, venta de empresa, fuerza mayor y extinción de la personalidad jurídica de la empresa
Citation
RODRÍGUEZ-DIOSDADO, Pepa Burriel. El despido colectivo en España: una visión tras las últimas reformas. Revista de direito do trabalho, São Paulo, v. 39, n. 154, p. 127-146, nov./dez. 2013.
---
Statistics for this item
Related items
Showing items related by title, author, creator and subject.