Artigo de periódico
La disolución de la sociedad y protección de la fuente de empleo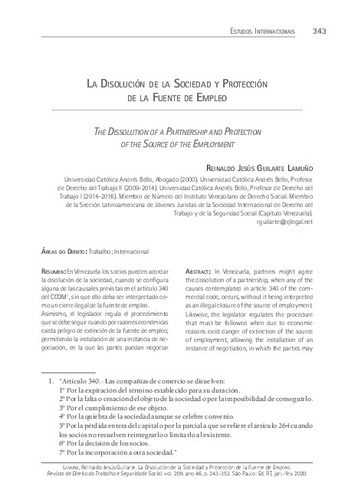 ---
Statistics for this item
Artigo de periódico
La disolución de la sociedad y protección de la fuente de empleo
[spa] En Venezuela los socios pueden acordar la disolución de la sociedad, cuando se configura alguna de las causales previstas en el artículo 340 del CCOM1, sin que ello deba ser interpretado como un cierre ilegal de la fuente de empleo. Asimismo, el legislador regula el procedimiento que se debe seguir cuando por razones económicas exista peligro de extinción de la fuente de empleo, permitiendo la instalación de una instancia de negociación, en la que las partes puedan negociar las condiciones que permitan la continuidad de la fuente de empleo, como se reconoce en el artículo 148 del DLOTTT2. De otra parte, encontramos las acciones que pueden ser asumidas por el Estado, cuando considera que se configuró un cierre ilegal o paro patronal (lock out), estableciendo el legislador la posibilidad que sea nombrada una Junta Administradora Especial y la ocupación de la entidad de trabajo, sin que en el artículo 149 del DLOTTT3 se defina que es un cierre ilegal. En este contexto, encontramos que la SC del TSJ dictó la sentencia N. 265 en fecha 14 de agosto de 2019 en el caso: Wonder de Venezuela, C.A.4, en la que se pronunció sobre la orden de reanudación de faenas dictada por la Inspectoría del Trabajo, por considerar que la disolución de una sociedad podría ser entendido como un hecho que pone en riesgo el trabajo de los trabajadores, situación que se estudia en el presente artículo.
[eng] In Venezuela, partners might agree the dissolution of a partnership, when any of the causes contemplated in article 340 of the commercial code, occurs, without it being interpreted as an illegal closure of the source of employment. Likewise, the legislator regulates the procedure that must be followed when due to economic reasons exist danger of extinction of the source of employment, allowing the installation of an instance of negotiation, in which the parties may negotiate the conditions that allow the continuity of the source of employment as it is recognized in article 148 of the DLOTTT. On the other hand, we find the actions that can be assumed by the State, when it considers an illegal lock out occurred, setting, the legislator the possibility, of the appointment of an Special Board of Administration ant the occupation of the work entity, without being defined by article 149 of the DLOTTT what a illegal lock out is. In this context, we find that the Constitutional Chamber of the Supreme Court issues the sentence N. 265 in August 14th, 2019 in the case: Wonder de Venezuela, C.A., where it pronounced about work resumption order issued by the Labor Inspectorate, for considering that the dissolution of a partnership could be understood as a fact that put in risk the work of the workers, situation studied in the present paper.
Citation
GUILARTE LAMUÑO, Reinaldo Jesús. La disolución de la sociedad y protección de la fuente de empleo = The dissolution of a partnership and protection of the source of the employment. Revista de direito do trabalho e seguridade social, São Paulo, v. 46, n. 209, p. 343-352, jan./fev. 2020.
---
Statistics for this item
Related items
Showing items related by title, author, creator and subject.