Artigo de periódico
El proceso laboral de ejecución de sentencias en el Perú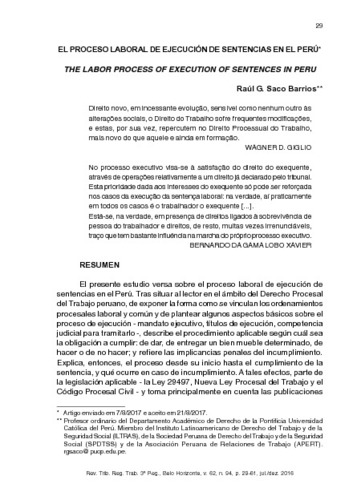 ---
Statistics for this item
Artigo de periódico
El proceso laboral de ejecución de sentencias en el Perú
[spa] El presente estudio versa sobre el proceso laboral de ejecución de sentencias en el Perú. Tras situar al lector en el ámbito del Derecho Procesal del Trabajo peruano, de exponer la forma como se vinculan los ordenamientos procesales laboral y común y de plantear algunos aspectos básicos sobre el proceso de ejecución - mandato ejecutivo, títulos de ejecución, competência judicial para tramitarlo -, describe el procedimiento aplicable según cuál sea la obligación a cumplir: de dar, de entregar un bien mueble determinado, de hacer o de no hacer; y refiere las implicancias penales del incumplimiento. Explica, entonces, el proceso desde su inicio hasta el cumplimiento de la sentencia, y qué ocurre en caso de incumplimiento. A tales efectos, parte de la legislación aplicable - la Ley 29497, Nueva Ley Procesal del Trabajo y el Código Procesal Civil - y toma principalmente en cuenta las publicaciones nacionales más relevantes y conocidas sobre el punto. Cuando es necesario, refiere algunos ejemplos útiles o situaciones ocurridas en la práctica judicial y profesional. En busca de la paz social, propicia que los actores involucrados asuman el cumplimiento de las sentencias y de sus obligaciones y que no lo entorpezcan con malas prácticas o conductas dilatorias.
[eng] The present study deals with the labor process of execution of sentences in Peru. After placing the reader in the area of Peruvian Labor Procedural law, to explain how the labor and common procedural rules are linked and to raise some basic aspects about the execution process - executive order, enforcement titles, judicial jurisdiction to handle it - describes the procedure to be applied according to the obligation to comply: of giving, of delivering a particular movable good, of doing or not doing; and refers to the criminal implications of non-compliance. It explains, then, the process from its inception to the fulfillment of the sentence, and what happens in case of non-compliance. To this end, considers the applicable legislation - Law 29497, New Labor Procedural Law, and civil Procedure Code - and mainly take into account the most relevant and known national publications on the point. When necessary, refers to some useful examples or situations that have occurred in judicial and professional practice. In search of social peace, it encourages the involved actors to comply with the judgments and their obligations and no to interfere with bad practices or delaying behavior.
Table of contents
Cuestiones previas: El derecho procesal del trabajo peruano. Relaciones entre la Ley 29497, nueva Ley procesal del trabajo, y el Código procesal civil. Computo dos plazos. Sentencia a ejecutar -- Aspectos generales: Proceso de ejecución. Títulos ejecutivos. Requisitos. Competência. ¿Es posible la oralidad en los procesos laborales de ejecución? -- Procedimiento: Disposiciones comunes. Mandato de ejecución. Multa por contradicción temeraria. Prosecución del trámite. Disposiciones específicas. Procedimiento para obligaciones de dar suma de dinero. Señalamiento de bien libre y procedimiento de declaración de deudor judicial moroso. Suspensión extraordinária o excepcional de la ejecución. Procedimiento acerca de obligaciones de dar suma liquída de dinero (CPC, art. 716). Procedimiento acerca de obligaciones de dar suma liquída de dinero (CPC, art. 717): cálculo de derehos accesorios (NLPT, art. 63). Medidas cautelares para futura ejecución forzada: embargo y secuestro (CPC, arts. 642-673). Ejecución forzada: remate y adjudicación (CPC, artículos 725-748). Procedimiento para obligaciones de dar un bien mueble determinado. Procedimiento para obligaciones de hacer o de no hacer. Incuplimiento injustificado del mandato de ejecución. Procedimiento para la ejecución de sentencias extranjeras -- Implicancias penales
Citation
SACO BARRIOS, Rául Guillermo. El proceso laboral de ejecución de sentencias en el Perú = The labor process of execution of sentences in Peru. Revista do Tribunal Regional do Trabalho da 3ª Região, Belo Horizonte, v. 62, n. 94, p. 29-61, jul./dez. 2016.
---
Statistics for this item
Related items
Showing items related by title, author, creator and subject.