Artigo de periódico
Gratuidad de los procesos laborales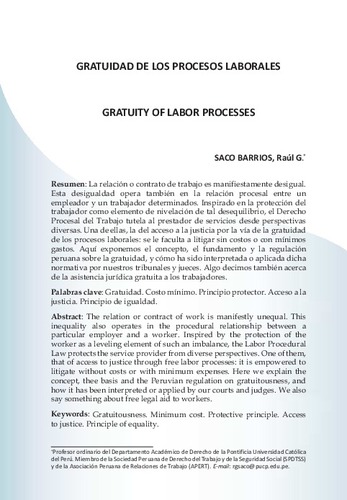 ---
Statistics for this item
Artigo de periódico
Gratuidad de los procesos laborales
[spa] La relación o contrato de trabajo es manifiestamente desigual. Esta desigualdad opera también en la relación procesal entre un empleador y un trabajador determinados. Inspirado en la protección del trabajador como elemento de nivelación de tal desequilibrio, el Derecho Procesal del Trabajo tutela al prestador de servicios desde perspectivas diversas. Una de ellas, la del acceso a la justicia por la vía de la gratuidad de los procesos laborales: se le faculta a litigar sin costos o con mínimos gastos. Aquí exponemos el concepto, el fundamento y la regulación peruana sobre la gratuidad, y cómo ha sido interpretada o aplicada dicha normativa por nuestros tribunales y jueces. Algo decimos también acerca de la asistencia jurídica gratuita a los trabajadores.
[eng] The relation or contract of work is manifestly unequal. This inequality also operates in the procedural relationship between a particular employer and a worker. Inspired by the protection of the worker as a leveling element of such an imbalance, the Labor Procedural Law protects the service provider from diverse perspectives. One of them, that of access to justice through free labor processes: it is empowered to litigate without costs or with minimum expenses. Here we explain the concept, thee basis and the Peruvian regulation on gratuitousness, and how it has been interpreted or applied by our courts and judges. We also say something about free legal aid to workers.
Table of contents
Principio protector y gratuidad -- Concepto -- Fundamento -- Pautas para su regulacion -- Legislación extranjera -- Normativa nacional: Marco general. Constitución. Ley orgánica del poder judicial. Código procesal civil. Disposiciones administrativas sobre aranceles o tasas judiciales. Derecho procesal del trabajo. Ley 29497, nueva ley procesal del trabajo. Normas administrativas sobre aranceles o tasas judiciales -- Defensa legal gratuita y asesoría del trabajador -- Honorarios -- Jurisprudencia: Tribunal Constitucional. Justicia del Trabajo
Citation
SACO BARRIOS, Raúl G. Gratuidad de los procesos laborales = Gratuity of labor processes. Revista do Tribunal Regional do Trabalho da 15. Região, Campinas, n. 57, p. 195-234, jul./dez. 2020.
---
Statistics for this item
Related items
Showing items related by title, author, creator and subject.