Artigo de periódico
Nuevo régimen uruguayo de responsabilidad materia de subcontratación, intermediación y suministro de mano de obra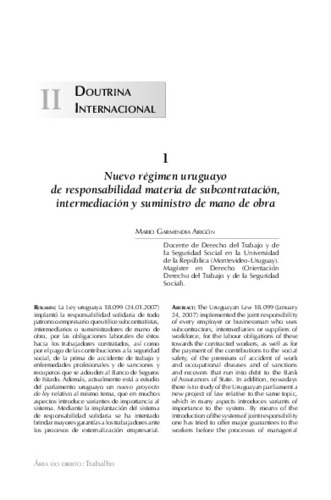 ---
Statistics for this item
Artigo de periódico
Nuevo régimen uruguayo de responsabilidad materia de subcontratación, intermediación y suministro de mano de obra
[spa] La Ley uruguaya 18.099 (24.01.2007) implantó la responsabilidad solidária de todo patrono o empresario que utilice subcontratistas, intermediarios o suministradores de mano de obra, por las obligaciones laborales de éstos hacia los trabajadores contratados, así como por el pago de las contribuciones a la seguridad social, de la prima de accidente de trabajo y enfermedades profesionales y de sanciones y recuperos que se adeuden al Banco de Seguros de Estado. Además, actualmente está a estudio del parlamento uruguayo un nuevo proyecto de ley relativo al mismo tema, que en muchos aspectos introduce variantes de importancia al sistema. Mediante la implantación del sistema de responsabilidad solidária se ha intentado brindar mayores garantías a los trabajadores ante los procesos de externalización empresarial. En el presente artículo se analizan los diversos aspectos y dudas que genera el nuevo sistema legal.
[eng] The Uruguayan Law 18.099 (January 24, 2007) implemented the joint responsibility of every employer or businessman who uses subcontractors, intermediaries or suppliers of workforce, for the labour obligations of these towards the contracted workers, as well as for the payment of the contributions to the social safety, of the premium of accident of work and occupational diseases and of sanctions and recovers that run into debt to the Bank of Assurances of State. In addition, nowadays there is to study of the Uruguayan parliament a new project of law relative to the same topic, which in many aspects introduces variants of importance to the system. By means of the introduction of the system of joint responsibility one has tried to offer major guarantees to the workers before the processes of managerial. outsourcing. In the present article there are analyzed the diverse aspects and doubts that the new legal system generates.
Citation
GARMENDIA ARIGÓN, Mario. Nuevo régimen uruguayo de responsabilidad materia de subcontratación, intermediación y suministro de mano de obra. Revista de direito do trabalho, São Paulo, v. 34, n. 129, p. 207-220, jan./mar. 2008.
---
Statistics for this item
Related items
Showing items related by title, author, creator and subject.