Artigo de periódico
De nuevo el modelo sindical argentino: la Resolución 255/2003 y después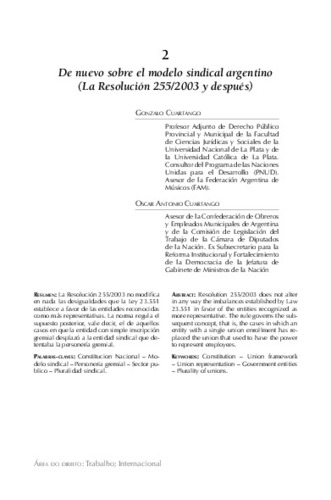 ---
Statistics for this item
Artigo de periódico
De nuevo el modelo sindical argentino: la Resolución 255/2003 y después
[spa] La Resolución 255/2003 no modifica en nada las desigualdades que la Ley 23.551 establece a favor de las entidades reconocidas como más representativas. La norma regula el supuesto posterior, vale decir, el de aquellos casos en que la entidad con simple inscripción gremial desplazó a la entidad sindical que detentaba la personería gremial.
[eng] Resolution 255/2003 does not alter in any way the imbalances established by Law 23.551 in favor of the entities recognized as more representative. The rule governs the subsequent concept, that is, the cases in which an entity with a single union enrollment has replaced the union that used to have the power to represent employees.
Table of contents
El modelo sindical en la Ley 23.551 -- El articulo 28 de la Ley 23.551 -- La Resolucion 255/2003 del Ministério de trabajo
Citation
CUARTANGO, Gonzalo; CUARTANGO, Oscar Antonio. De nuevo el modelo sindical argentino: la Resolución 255/2003 y después. Revista de direito do trabalho, São Paulo, v. 33, n. 126, p. 219-229, abr./jun. 2007.
---
Statistics for this item
Related items
Showing items related by title, author, creator and subject.