Artigo de periódico
El contrato indefinido de apoyo a empreendedores: resultados y vías para su erradicación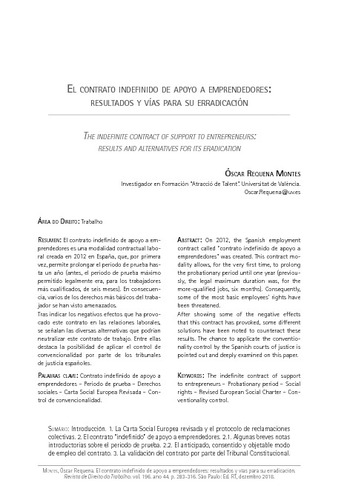 ---
Statistics for this item
Artigo de periódico
El contrato indefinido de apoyo a empreendedores: resultados y vías para su erradicación
[spa] El contrato indefinido de apoyo a emprendedores es una modalidad contractual laboral creada en 2012 en España, que, por primera vez, permite prolongar el periodo de prueba hasta un año (antes, el periodo de prueba máximo permitido legalmente era, para los trabajadores más cualificados, de seis meses). En consecuencia, varios de los derechos más básicos del trabajador se han visto amenazados. Tras indicar los negativos efectos que ha provocado este contrato en las relaciones laborales, se señalan las diversas alternativas que podrían neutralizar este contrato de trabajo. Entre ellas destaca la posibilidad de aplicar el control de convencionalidad por parte de los tribunales de justicia españoles.
[eng] On 2012, the Spanish employment contract called "contrato indefinido de apoyo a emprendedores" was created. This contract modality allows, for the very first time, to prolong the probationary period until one year (previously, the legal maximum duration was, for the more -qualified jobs, six months). Consequently, some of the most basic employees' rights have been threatened. After showing some of the negative effects that this contract has provoked, some different solutions have been noted to counteract these results. The chance to applicate the conventionality control by the Spanish courts of justice is pointed out and deeply examined on this paper.
Table of contents
La Carta Social Europea revisada y el protocolo de reclamaciones colectivas -- El contrato "indefinido" de apoyo a empreendedores: Algunas breves notas introductorias sobre el periodo de prueba. El anticipado, consentido y objetable modo de empleo del contrato -- La validación del contrato por parte del Tribunal Constitucional -- La inhibición por parte del Tribunal de Justicia de la Unión Europea -- Una fugaz aplicación del control de convencionalidad a la regulación del contrato -- La consolidación de la doctrina del Tribunal Constitucional: opciones jurídicas y consecuencias reales: ¿La alegación de fraude de ley o abuso de derecho como mecanismo de defensa? Consecuencias reales: una tutela del trabajador insuficiente e inaceptable
Citation
MONTES REQUENA, Óscar. El contrato indefinido de apoyo a empreendedores: resultados y vías para su erradicación = The indefinite contract of support to entrepreneurs: results and alternatives for its eradication. Revista de direito do trabalho, São Paulo, v. 44, n. 196, p. 283-316, dez. 2018.
---
Statistics for this item
Related items
Showing items related by title, author, creator and subject.