Artigo de periódico
El impacto del actual contexto productivo en los derechos de participación y representación de los trabajadores en Europa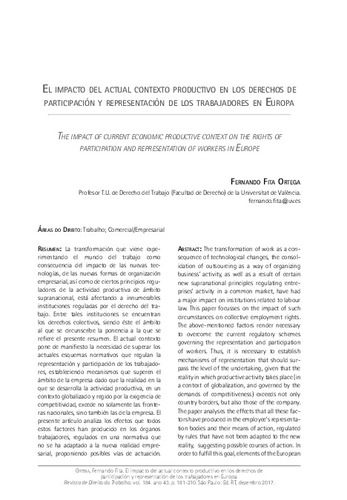 ---
Estadísticas
Artigo de periódico
El impacto del actual contexto productivo en los derechos de participación y representación de los trabajadores en Europa
[spa] La transformación que viene experimentando el mundo del trabajo como consecuencia del impacto de las nuevas tecnologías, de las nuevas formas de organización empresarial, así como de ciertos principios reguladores de la actividad productiva de ámbito supranacional, está afectando a innumerables instituciones reguladas por el derecho del trabajo. Entre tales instituciones se encuentran los derechos colectivos, siendo éste el ámbito al que se circunscribe la ponencia a la que se refiere el presente resumen. El actual contexto pone de manifiesto la necesidad de superar los actuales esquemas normativos que regulan la representación y participación de los trabajadores, estableciendo mecanismos que superen el ámbito de la empresa dado que la realidad en la que se desarrolla la actividad productiva, en un contexto globalizado y regido por la exigencia de competitividad, excede no solamente las fronteras nacionales, sino también las de la empresa. El presente artículo analiza los efectos que todos estos factores han producido en los órganos trabajadores, regulados en una normativa que no se ha adaptado a la nueva realidad empresarial, proponiendo posibles vías de actuación Para ello se tienen en cuenta, entre otros factores, los elementos del derecho comunitario y comparado (Francia e Italia esencialmente) que permiten contribuir a establecer un marco normativo dirigido a superar el ámbito empresarial en la regulación de las estructuras de representación y participación de los trabajadores
[eng] The transformation of work as a consequence of technological changes, the consolidation of outsourcing as a way of organizing business' activity, as well as a result of certain new supranational principles regulating entreprises' activity in a common market, have had a major impact on institutions related to labour law. This paper focusses on the impact of such circumstances on collective employment rights. The above-mentioned factors render necessary to overcome the current regulatory schemes governing the representation and participation of workers. Thus, it is necessary to establish mechanisms of representation that should surpass the level of the undertaking, given that the reality in which productive activity takes place (in a context of globalization, and governed by the demands of competitiveness) exceeds not only country borders, but also those of the company. The paper analyses the effects that all these factors have produced in the employee's representation bodies and their means of action, regulated by rules that have not been adapted to the new reality, suggesting possible courses of action. In order to fulfill this goal, elements of the European Union and comparative law (France and Italy essentially) have been taken into account.
Notas de contenido
El impacto del modelo productivo en las estructuras de representacion: Nuevas formas de organización de la actividad productiva e impenetrabilidad sindical. Las dificultades para el establecimiento de estructuras de representación de los trabajadores derivadas de la internacionalización de las empresas -- Reacciones frente a los retos que el modelo productivo plantea para las estructuras de representación y su acción sindical: Algunas inciativas de los trabajadores. Algunas iniciativas negociadas por empresas y representantes de los trabajadores. Algunas iniciativas de los legisladores
Referencia bibliográfica
FITA ORTEGA, Fernando. El impacto del actual contexto productivo en los derechos de participación y representación de los trabajadores en Europa = The impact of current economic productive context of the rights of participation and representation of workers in Europe. Revista de direito do trabalho, São Paulo, v. 43, n. 184, p. 181-210, dez. 2017.
---
Estadísticas
Ítems relacionados
Mostrando ítems relacionados por Título, autor o materia.