Artigo de periódico
Políticas de empleo y comunidades autónomas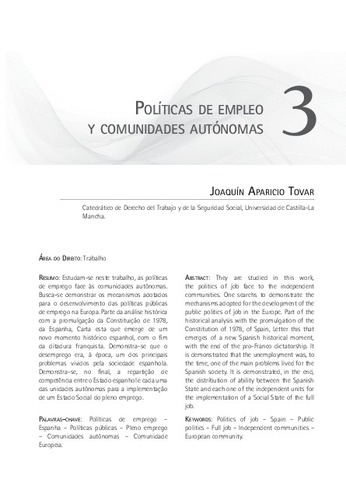 ---
Statistics for this item
Artigo de periódico
Políticas de empleo y comunidades autónomas
[por] Estuda as políticas de emprego face às comunidades autônomas. Busca-se demonstrar os mecanismos adotados para o desenvolvimento das políticas públicas de emprego na Europa. Parte da análise histórica com a promulgação da Constituição de 1978, da Espanha, Carta esta que emerge de um novo momento histórico espanhol, com o fim da ditadura franquista. Demonstra-se que o desemprego era, à época, um dos principais problemas vividos pela sociedade espanhola. Demonstra-se, no final, a repartição de competência entre o Estado espanhol e cada uma das unidades autônomas para a implementação de um Estado Social do pleno emprego.
[eng] They are studied in this work, the politics of job face to the independent communities. One searchs to demonstrate the mechanisms adopted for the development of the public politics of job in the Europe. Part of the historical analysis with the promulgation of the Constitution of 1978, of Spain, Letter this that emerges of a new Spanish historical moment, with the end of the pro-Franco dictatorship. It is demonstrated that the unemployment was, to the time, one of the main problems lived for the Spanish society. It is demonstrated, in the end, the distribution of ability between the Spanish State and each one of the independent units for the implementation of a Social State of the full job.
Table of contents
El pleno empleo condicionante de la política de empleo: Caracterización de la política de empleo. Política de empleo y derecho del trabajo -- La convivencia de la política de empleo con "las libertades económicas" en el derecho de la Unión Europea: El difícil equilibrio entre lo nacional y lo supranacional o entre lo social y lo económico en la UE. La convivencia de la política de empleo anclada en el Método Abierto de coordinación con las libertades económicas y otras políticas sociales regidas a través de las competências de atribución -- La política de empleo en el nuevo " Estado Social Autonómico": El reforzamiento de los derechos sociales y el objetivo del pleno empleo en los nuevos Estatutos de Autonomia. El reparto competêncial: la legislación laboral como competência estatal. Limites del derecho europeo: las ayudas del Estado contrarias a la libre competência y otras libertades económicas. Los sindicatos, las asociaciones empresariales y los entes locales en la política de empleo de las Comunidades Autónomas
Citation
APARICIO TOVAR, Joaquín. Políticas de empleo y comunidades autónomas. Revista de direito do trabalho, São Paulo, v. 37, n. 143, p. 55-64, jul./set. 2011.
---
Statistics for this item
Related items
Showing items related by title, author, creator and subject.