Artigo de periódico
De deseos y realidades: acerca de la integralidad del salario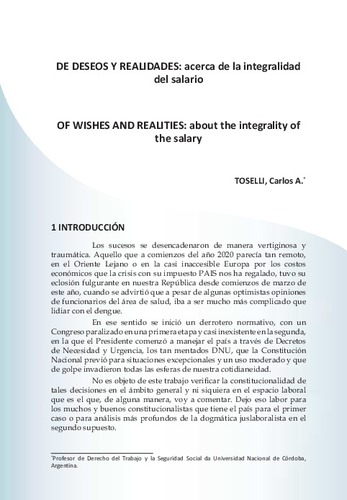 ---
Statistics for this item
Artigo de periódico
De deseos y realidades: acerca de la integralidad del salario
Los sucesos se desencadenaron de manera vertiginosa y traumática. Aquello que a comienzos del año 2020 parecía tan remoto, en el Oriente Lejano o en la casi inaccesible Europa por los costos económicos que la crisis con su impuesto PAIS nos ha regalado, tuvo su eclosión fulgurante en nuestra República desde comienzos de marzo de este año, cuando se advirtió que a pesar de algunas optimistas opiniones de funcionarios del área de salud, iba a ser mucho más complicado que lidiar con el dengue. En ese sentido se inició un derrotero normativo, con un Congreso paralizado en una primera etapa y casi inexistente en la segunda, en la que el Presidente comenzó a manejar el país a través de Decretos de Necesidad y Urgencia, los tan mentados DNU, que la Constitución Nacional previó para situaciones excepcionales y un uso moderado y que de golpe invadieron todas las esferas de nuestra cotidianeidad. No es objeto de este trabajo verificar la constitucionalidad de tales decisiones en el ámbito general y ni siquiera en el espacio laboral que es el que, de alguna manera, voy a comentar. Dejo eso labor para los muchos y buenos constitucionalistas que tiene el país para el primer caso o para análisis más profundos de la dogmática juslaboralista en el segundo supuesto. Mi objetivo va a ser centrarme en la integralidad del salario en los tiempos de pandemia y para ello será necesario vislumbrar y remarcar algunas situaciones ya vivenciadas y otras que se aproximan, pero también habrá que recurrir a las búsquedas de los orígenes normativos y verificar cómo tales aspectos están regulados en la antigua normalidad, para luego hacer un ejercicio respecto de su implosión en la actual y futura nueva normalidad.
Table of contents
De los instrumentos clásicos -- El escenario del Covid 19 -- Los trabajadores afectados: Los trabajadores dependientes públicos. Los trabajadores registrados privados. Los trabajadores públicos que realizan tareas esenciales. Los trabajadores privados que realizan tareas en establecimientos exceptuados del Aislamiento Social Preventivo Obligatorio. Personas que realicen tareas en forma continua bajo figuras no dependientes tanto en el sector privado como en el público. Los trabajadores informales. Los trabajadores auténticamente monotributistas o autónomos -- Cuestiones salariales
Citation
TOSELLI, Carlos Alberto. De deseos y realidades: acerca de la integralidad del salario = Of wishes and realities: about the integrality of the salary. Revista do Tribunal Regional do Trabalho da 15ª Região, Campinas, n. 58, p. 231-242, jan./jun. 2021.
---
Statistics for this item
Related items
Showing items related by title, author, creator and subject.