Artigo de periódico
Notas sobre el proceso de construcción jurídica de la negociación y el convenio colectivo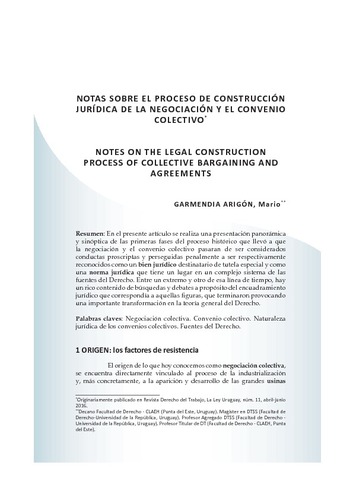 ---
Statistics for this item
Artigo de periódico
Notas sobre el proceso de construcción jurídica de la negociación y el convenio colectivo
[spa] Se realiza una presentación panorámica y sinóptica de las primeras fases del proceso histórico que llevó a que la negociación y el convenio colectivo pasaran de ser considerados conductas proscriptas y perseguidas penalmente a ser respectivamente reconocidos como un bien jurídico destinatario de tutela especial y como una norma jurídica que tiene un lugar en un complejo sistema de las fuentes del Derecho. Entre un extremo y otro de esa línea de tiempo, hay un rico contenido de búsquedas y debates a propósito del encuadramiento jurídico que correspondía a aquellas figuras, que terminaron provocando una importante transformación en la teoría general del Derecho.
Table of contents
Origen: los factores de resistencia -- Lanzamiento y ascenso -- El proces de encuadramiento jurídico: La incómoda búsqueda de la "categoría adecuada". Rompiendo los moldes: el reconocimiento de la actividad jurídico-normativa del grupo profesional -- La negociación colectiva como valor objeto de tutela y ubicación del convenio colectivo en el sistema de las fuentes
Citation
GARMENDIA ARIGÓN, Mario. Notas sobre el proceso de construcción jurídica de la negociación y el convenio colectivo = Notes on the legal construction process of collective bargaining and agreements. Revista do Tribunal Regional do Trabalho da 15ª Região, Campinas, n. 50, p. 179-196, jan./jun. 2017.
---
Statistics for this item
Related items
Showing items related by title, author, creator and subject.