Artigo de periódico
A propósito de la acción de tutela: un balance general: 1991-2011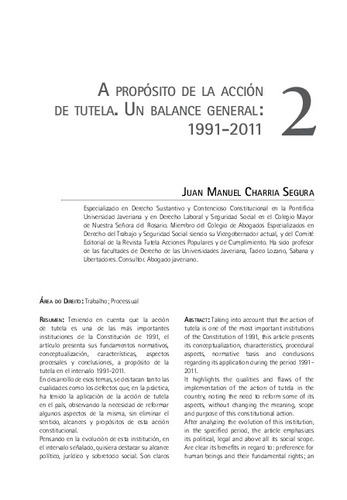 ---
Statistics for this item
Artigo de periódico
A propósito de la acción de tutela: un balance general: 1991-2011
[spa] Teniendo en cuenta que la acción de tutela es una de las más importantes instituciones de la Constitución de 1991, el artículo presenta sus fundamentos normativos, conceptualización, características, aspectos procesales y conclusiones, a propósito de la tutela en el intervalo 1991-2011. En desarrollo de esos temas, se destacan tanto las cualidades como los defectos que, en la práctica, ha tenido la aplicación de la acción de tutela en el país, observando la necesidad de reformar algunos aspectos de la misma, sin eliminar el sentido, alcances y propósitos de esta acción constitucional. Pensando en la evolución de esta institución, en el intervalo señalado, quisiera destacar su alcance político, jurídico y sobretodo social. Son claros sus beneficios en cuanto a: la preferencia por la persona humana y sus derechos fundamentales; un acercamiento a la administración de justicia y la búsqueda de protección de los más débiles. La tutela ha permitido que las personas busquen en un juez la protección sin esperar trámites procesales muchas veces engorrosos que hacen ilusoria su efectividad. En el ejercicio de la acción de tutela, se han presentado errores que han desbordado su sentido y alcance. Tal es el caso en que los fallos deben ser cumplidos inmediatamente, sin esperar el resultado de la segunda instancia. Ante la situación vigente, es conveniente impulsar, una reforma a la reglamentación de la tutela para impedir excesos. Deseo anotar que la jurisdicción y competência, en un Estado de derecho, deben ser determinadas por la Constitución y la ley, y no a través de una norma reglamentaria como lo es el Dec. 1.382/2000.
[eng] Taking into account that the action of tutela is one of the most important institutions of the Constitution of 1991, this article presents its conceptualization, characteristics, procedural aspects, normative basis and conclusions regarding its application during the period 1991- 2011. It highlights the qualities and flaws of the implementation of the action of tutela in the country, noting the need to reform some of its aspects, without changing the meaning, scope and purpose of this constitutional action. After analyzing the evolution of this institution, in the specified period, the article emphasizes its political, legal and above all its social scope. Are clear its benefits in regard to: preference for human beings and their fundamental rights; an approach to the administration of Justice and the quest for the protection of the weaker. The tutela has allowed people to seek protection in a judge without waiting for cumbersome procedural steps with illusory effectiveness. In the exercise of the action of tutela, there have been mistakes that have exceeded its meaning and scope. Such is the case in which the rulings must be met immediately without awaiting the outcome of the second instance. Given the existing situation, it is worth promoting a reform of the regulatory protection to prevent excesses. I must insist that the jurisdiction and competence, in a State of Law, must be determined by the Constitution and the law, and not through a regulatory standard such as the Dec. 1.382/2000.
Table of contents
Fundamentos normativos -- Características: Informalidad. Eficacia. Preferencial. Subsidiaria residual. Inmediatez. Celeridad. Sumaria. Impulso oficioso. Gratuita. Irrepetible. No suspendible -- Aspectos procesales de la tutela: Sujeto activo. Sujeto pasivo. Competência. Medidas preventivas. Presunción de veracidad. Indemnización y costas. Cumplimiento del fallo de tutela e incidente de desacato. Temeridad
Citation
CHARRIA SEGURA, Juan Manuel. A propósito de la acción de tutela: un balance general: 1991-2011. Revista de direito do trabalho, São Paulo, v. 38, n. 146, p. 327-372, abr./jun. 2012.
---
Statistics for this item
Related items
Showing items related by title, author, creator and subject.
Garmendia Arigón, Mario

| jun. 2008

[spa] Se denomina período pre-contractual a aquel que precede al momento en que se perfecciona un contrato. Se trata de una etapa cuya característica principal consiste en que los actos que tienen lugar dentro de la misma carecen de valor vinculante entre las partes. La doctrina laboralista no ha dedicado demasiados ...

Gonçalves, Eduardo Luz

| mar. 2011

[por] Empreende uma nova interpretação do preceito estabelecido no art. 76, § 2º, da Lei 8.213/1991, que trata da fixação de regra acerca da divisão do benefício de pensão por morte, havendo pluralidade de beneficiários, quando envolver ex-cônjuge que recebia pensão alimentícia do segurado. Inspirado no descortinamento ...

Instituto Iberoamericano de Derecho Procesal (IDP)

| jun. 2015

Rossi Albert, Rosina

| jun. 2016

[spa] Este artículo presenta una breve reseña sobre la consolidación del derecho procesal laboral en Uruguay, destacando que el p anorama de dispersión normativa existente en el país fue sustancialmente cambiado con la aprobación, en 2009, de la Ley 18.572, completada, en 2011, por la Ley 18.847. Como el derecho procesal ...

Sierra Benítez, Esperanza Macarena

| fev. 2019

[spa] La protección social de los trabajadores de la economía digital y la financiación de la Seguridad Social son algunas de las preocupaciones más significativas para el conjunto de la sociedad europea. El número de pensionistas aumentará de forma preocupante para la sostenibilidad del sistema cuando los trabajadores ...

Zavanella, Fabiano

| out. 2018

[por] Traça um panorama histórico do surgimento do instituto da greve e suas acepções no direito comparado até seu tratamento normativo interno. Definido seu conceito, natureza jurídica e como a OIT recomenda que os países integrantes ordenem sua legislação a fim de garantir a efetividade desse direito, enfrenta-se ...

Almeida, Renato Rua de

| fev. 2011

[por] A relação de emprego está protegida no texto constitucional brasileiro contra a despedida arbitrária ou sem justa causa. Esta proteção está prevista no art. 7º, I, da Constituição Federal de 1988, como direito fundamental. Pretende-se examinar, numa primeira parte, qual o sentido e o alcance da classificação da ...

Mello, Amanda Bulgarelli de

| fev. 2013

[por] Versa sobre ação civil pública movida em razão do não preenchimento da cota de beneficiários reabilitados ou pessoas com deficiência habilitada, determinada pela Lei 8.213/1991. Decisão inovadora que traz à baila a discussão da prevalência da boa-fé e justo motivo do empregador sobre o efetivo cumprimento do ...

Cardoso, Ana Claudia Moreira

;

Lima, Claudia Rejane de

| ago. 2021

[por] Neste ensaio, a negociação coletiva é vista como um processo político no qual os diferentes e desiguais atores sociais definem parâmetros para as relações de trabalho. Objetivo: discutir possibilidades e limites da negociação coletiva para modificar as situações de riscos à saúde dos trabalhadores, considerando ...