Ato
Ato n. 445, de 31 de outubro de 2001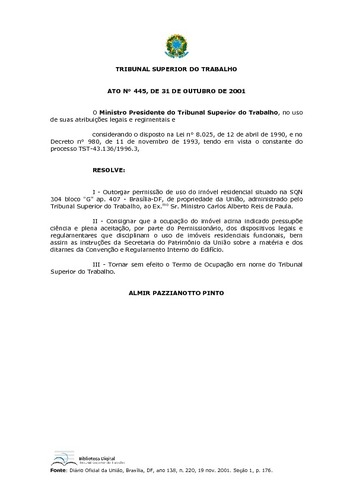 ---
Statistics for this item
Ato
Ato n. 445, de 31 de outubro de 2001
Outorga permissão de uso de imóvel funcional ao Exmo. Sr. Ministro CARLOS ALBERTO REIS DE PAULA.
Refers to
Processo TST n. 43.136/1996.3
Citation
BRASIL. Tribunal Superior do Trabalho. Ato n. 445, de 31 de outubro de 2001. Diário Oficial da União: seção 1, Brasília, DF, ano 138, n. 220, p. 176, 19 nov. 2001.
---
Statistics for this item
Related items
Showing items related by title, author, creator and subject.